Saki Anime, Manga, and other Saki Disscussion
Well this show is pretty Interesting. At time i think Saki is a little under powered. Although I still think that maybe she's hold back because of what happened in the past. I found this image that I am hoping will finally become true in the finals but that'll be to see.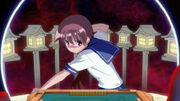 I think it would be interesting to actually see Saki do this in the finals it would also prove to the viewers and people watching that she is related to Teru. I Didn't really char to much for Himematsu or Rinkai (I didn't really like Kyouko she seemed to be to plan and i thought it was lame Saki couldn't finish off that one amd I don't really like Nelly and would like to see her get her butt kicked) I really hope Saki Shows her true side in the finals and proves she is Teru's Sister once and for all. Also hoping for some more back story of Saki and Teru and what happened. Maybe something will happen which will remind Saki of the past and how she used to play and what happened that she'll end up changing in the middle of the match and start kicking butt. ALthough i'd like to see her use this ability of Teru's or maybe use an ability like Koromo's or even both would be even more interesting. Also so far the only training we know she did was the stupid computer training which i think is still lame, but there has to be more training she went through then just that which makes me think she was hold back for the finals or Hisa told her to hold back one or the other. I just think she should be holding back or is not fully herself yet. What i'd like to see happen in the finals is this.
1st: Kiyosumi
2nd: Shiraitodai
3rd: Rinka
4th: Achiga
One reason i think Achiga is going to be last is that Shizuno may have the Nullify ability, but it's not an ability that works all the time at least that's what I read somewhere. Rinka I think maybe 3rd as she is pretty strong, but it wouldn't surprise me even if she ended up 4th instead. I think Shiraitodai will maybe be second for a few reason one Teru using her the mirror ability will dominate most of the people in the first round and the rest of the team will probably protect the top spot until the captians match. As for why I put Kiyosumi in first is because I think Saki will finaly show the real her or her real play style and the possible chance she maybe even able to copy or use others ability might be possible would be interesting to see if that happens. Though i think she will finaly come to terms with her real abilities and find her true path.