Hitomi Munesue


Personal info
Japanese name:
棟居 仁美
Birthday:
January 11
School:
East Chikuma High School
Grade:
Third-year high school
Media
Debut:
Saki, round 57 (photo)
Mahjong
Position:
Captain
Hitomi Munesue is a third-year student at East Chikuma High School. She is the president of the mahjong club and plays in the captain position. Only her name is shown in the anime, but she is briefly seen in the manga, and appears in the promotional mahjong tile set.
Appearance
Hitomi has long blonde hair and dark eyes. She wears a beanie and the standard East Chikuma uniform.
Plot
Individual Tournament Arc *Anime only*
In the DVD version, she was ranked at the 25th place at the end of the first day of the individual tournament. She replaced her team-mate Sakurako Ootaki whose name appeared in the TV release.
Combined Training Camp Arc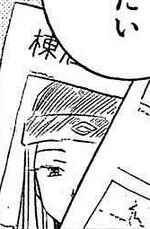 Before the combined training camp, Kazekoshi's coach Takako Kubo praised her while talking with Yasuko Fujita. According to Takako, Hitomi (and also Yumi Kajiki) both had a good interaction against Kiyosumi (Saki Miyanaga) and that they should go with them for their selections for individuals. Other players like Kazue Nanpo were also considered but it is unknown what selections they were considered for.