Kiyosumi High School



Club Tier

1/5

Popularity

2/5

Cohesion

4/5

Personality

3/5

Strengths

4/5
Kiyosumi High School, located in Nagano Prefecture, is the focus school in the Saki manga and its anime adaptation. It is also the primary rival of Achiga Girls' Academy in the spin-off manga Saki Achiga-hen episode of side-A and its anime adaptation.
History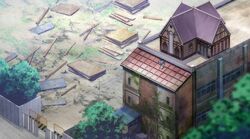 Kiyosumi's mahjong club was re-started by Hisa Takei two years ago and she was its lone member until Mako Someya joined the following year. After an influx of freshmen, led by Saki Miyanaga and Nodoka Haramura, the club enters its first mahjong tournament. After winning the Nagano Prefecture qualification tournament, Kiyosumi becomes the prefecture's representative at the 71st Inter High championships in Tokyo. They were a relatively unknown club prior to their success.
Club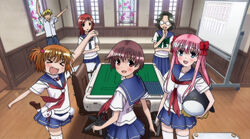 Hisa Takei serves as the president of the mahjong club, which meets in clubhouse situated on top of an abandoned school building.
A patio chair and an umbrella sits on a slanted roof which is attached to the patio of the clubhouse. Hisa, Yuuki, and Kyoutarou perform dangerous looking activities on the slanted roof.
Roster
Girls' team and individual tournaments
Nodoka and Saki finished 2nd and 3rd in the prefectural individual tournament and thus qualify for the national individual tournament.
Boys' individual tournament
Tournaments
Nagano Prefecture qualification
71st Inter High
Main article: 71st Inter High School Mahjong Championships
Community content is available under
CC-BY-SA
unless otherwise noted.