Kouko Fukuyo


Personal info
Japanese name:
福与 恒子
Birthday:
January 17
Media
Debut:
Saki, round 56
Voiced by:
Ai Nonaka
Live-action actor:
Satomi Kawaguchi
Mahjong
Kouko Fukuyo is the announcer of the East Tokyo qualification tournament and one of several announcers of the 71st Inter High School Mahjong Championships. She works for Inter High Radio and is partnered with professional mahjong player Sukoya Kokaji.
Appearance
Kouko has medium length brown hair that curl outwards at the ends and light brown eyes. She has pierced ears
Personality
Despite occasionally forgetting details about her report subjects, Kouko is passionate about her work. This characteristic has led Tsuruga Academy vice captain Momoko Touyoko to question her capability as an announcer, and for professional mahjong player Yasuko Fujita to find her strange. She does not get easily embarassed.
Commentating style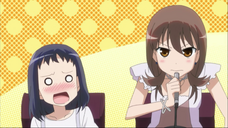 Kouko likes to inject humor into the commentatary. She often does this by embarassing her partner Sukoya, either by directly asking her embarassing questions or by making partially false statements about her. She also uses this technique to lead Sukoya to reveal her in-depth knowledge. After she and Sukoya get a semi-finals broadcast assignment over
Eri Hariu
and
Uta Mihirogi
, Eri says that she is a terrible commentator.
Plot
National Tournament Arc
After the two broadcast stages for the team tournament second round are completed, Kouko visits Sukoya's home and streams live footage of her wake up appearance over the internet. They stay at Kouko's place overnight before driving to the Inter High to look at the stage.
She later names Shiraitodai High School as the strongest school in the history of the mahjong championships.
Final Eight Arc
She then covers the semi-finals match that was originally scheduled for Uta Mihirogi and Eri Hariu.
Community content is available under
CC-BY-SA
unless otherwise noted.