Ryuumonbuchi High School



Club Tier

2/5

Popularity

4/5

Cohesion

3/5

Personality

5/5

Strengths

4/5
Ryuumonbuchi High School, located in Nagano Prefecture, is a regional rival of Kiyosumi High School in the Saki manga and its anime adaptation.
History
Ryuumonbuchi High School is owned and operated by the Ryuumonbuchi family. It was founded by and named after the grandfather of Touka Ryuumonbuchi. The school's original mahjong club was not considered a strong contender in the Nagano Prefecture tournaments.
Prior to entering the school with her cousin Koromo Amae, Touka recruited Jun Inoue, Tomoki Sawamura, and Hajime Kunihiro as members of a new mahjong club. The five defeated the members of the original club and went on to win that year's Nagano Prefecture qualifying tournament for the 70th Inter High, crushing the seeded school Kazekoshi Girls' High School. They rampaged through the Nationals, getting to the semi-finals of the Inter High before being defeated, leading them to become a seeded school for the 71st Inter High prefectural tournament.
Club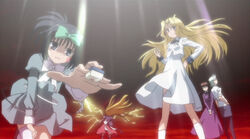 The previous Ryuumonbuchi mahjong club was not considered very good, even at the prefectural level. Touka and her friends, in their first year, walked in, beat everyone, and took Ryuumonbuchi to national acclaim in the 70th Interhigh.
Touka Ryuumonbuchi is the current mahjong club president of the school, which meets in her mansion. Koromo lives in a eerie mansion next to Touka's.
Roster
Girls' team tournament
Tournaments
70th Inter High
Main article: 70th Inter High School Mahjong Championships
Nagano Prefecture qualification
Trivia
Ryuumonbuchi was the first school to field players that were completely in the same year, all of Ryuumonbuchi's regulars are 2nd years.

The second team is Iwate's Miyamori whose team is comprised completely of 3rd years.
Community content is available under
CC-BY-SA
unless otherwise noted.