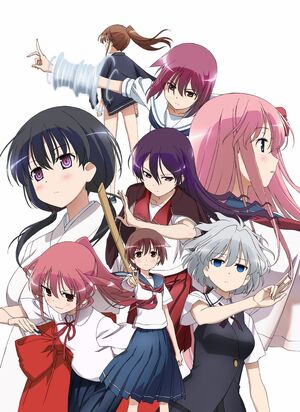 Saki: Zenkoku-hen
is the sequel to the
Saki series
covering the Inter High School Mahjong Championships.
Genres: drama, action/sport, comedy, romance
Themes: mahjong, school life, tournament, bishoujo, fanservice, yuri, supernatural, moe, camp (style), slice of life
Demographics: seinen
Plot Preview
Its August and Kiyosumi has arrived at the nationals. In order to face her sister, Saki Miyanaga and her friends must keep winning. Sequel to the Saki series covering the Inter High School Mahjong Championships.
Overview / Review
Episodes
Main article: Saki: Zenkoku-hen episodes
Music
Opening Themes
"New SPARKS!" by Miyuki Hashimoto
Ending Themes
"Kono Te ga Kiseki wo Eranderu (この手が奇跡を選んでる)" by Himematsu High School, Eisui Girls' High School,  and Miyamori Girls' High School
"TRUE GATE" by Miyuki Hashimoto
Production Staff
The following are returning staff members from the producers of the Saki anime. Manabu Ono is the director, Kenji Satou is the assistant director, Tatsuhiko Urahata will be doing series composition and scenario, and Masatsu Sasaki is the character designer and is also be the general animation supervisor.
Animation production is done by Studio Gokumi, formerly known as Gonzo Studio #5, the studio that animated the first fourteen episodes of the Saki anime, and Lantis.
Japanese voice actresses
Kiyosumi High School

Ami Koshimizu as Nodoka Haramura
Jun Fukuyama as Kyoutaro Suga
Kana Ueda as Saki Miyanaga
Rie Kugimiya as Yuuki Kataoka
Ryoko Shiraishi as Mako Someya
Shizuka Itou as Hisa Takei
Ryuumonbuchi High School

Kaori Fukuhara as Koromo Amae
Minori Chihara as Touka Ryuumonbuchi
Ai Shimizu as Hajime Kunihiro
Ayuru Ōhashi as Tomoki Sawamura
Daisuke Ono as Hagiyoshi
Yuko Kaida as Jun Inoue
Kazekoshi Girls' High School

Ai Matayoshi as Seika Bundou
Chiro Kanzaki as Miharu Yoshitome
Mitsuki Saiga as Sumiyo Fukabori
Miho Yamada as Takako Kubo
Rika Morinaga as Kana Ikeda
Yui Horie as Mihoko Fukuji
Tsuruga Academy

Momoko Saito as Momoko Touyoko
Natsuko Kuwatani as Satomi Kanbara
Ryoko Shintani as Kaori Senoo
Shin Nanasawa as Mutsuki Tsuyama
Yu Kobayashi as Yumi Kajiki

Eisui Girls' High School

Saori Hayami as Komaki Jindai
Chinatsu Akasaki as Tomoe Karijuku
Kaori Mizuhashi as Haru Takimi
Ayumi Tsuji as Hatsumi Usuzumi
Sayaka Ohara  as Kasumi Iwato

Himematsu High School

Arisa Date as Suzu Ueshige
Haruka Yoshimura as Yuuko Mase
Satsumi Matsuda as Hiroe Atago
Mariko Nakatsu as Kinue Atago
Minako Kotobuki as Kyouko Suehara

Miyamori High School

Juri Nagatsuma as Shiromi Kosegawa
Mariko Mizuno as Aislinn Wishart
Toyota Moe as Kurumi Kakura
Rina Satou as Sae Usuzawa
Maaya Uchida as Toyone Anetai
External Links
Community content is available under
CC-BY-SA
unless otherwise noted.