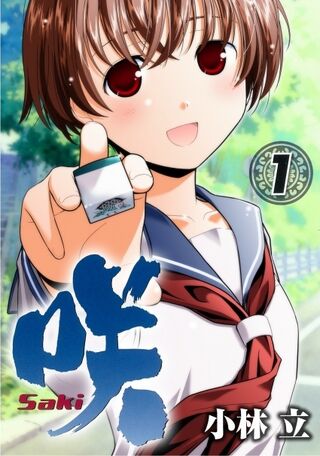 Saki ( 咲-Saki-)
is a manga series written and illustrated by Ritz Kobayashi. The manga is published by Square Enix and began regular serialization in Square Enix's biweekly
Young Gangan
on February 3, 2006. The manga has collected 19 volumes as of May 25, 2019. A bargain edition started publication on December 6, 2016 and collected four volumes.
Yenpress licensed the manga series and published the first volume on December 29, 2015 in a digital format only. As of January 2019, 18 volumes have been released.
Story
The story of Saki takes place in the Nagano prefecture. The manga focuses on the titular character Saki Miyanaga, a first year student, who hates mahjong but is quite skilled at it. After she is dragged to the school's mahjong club by her middle school friend, she meets Nodoka Haramura and later joins the club. Together they try and fight their way toward the national tournament.
Characters
Saki Miyanaga is a first-year student and is the titular character of the story. She initially joins the mahjong club so she can reach the Nationals to see her sister, Teru Miyanaga, a multi-champion mahjong player.
Nodoka Haramura is a first-year student who attends the same school as Saki and is a member of the mahjong club. She was the previous year's National Middle School Individual Champion.
Yuuki is Nodoka Haramura's friend from middle school who is also a member of the mahjong club. She is often seen eating tacos, which increases her skill when playing mahjong.
Hisa is the head of the mahjong club and the president of the school's student congress. She is formerly known as Hisa Ueno but currently unknown circumstances made her change it. Along with Mako, she helps establish the Kiyosumi mahjong club.
Mako is the second person to join Hisa in the mahjong club. Her grandfather owns a mahjong parlor (a maid cafe in the anime) where Mako grew up and now works as a waitress.
Chapters
Covers
Extras
Yuuki stars in a miniseries on the front and back cover pages of each manga volume up to volume 13 except for volume 11.
External links
Community content is available under
CC-BY-SA
unless otherwise noted.