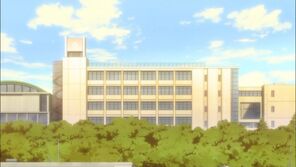 Senriyama Girls' High School
, located in North Osaka, is the primary rival of
Achiga Girls' Academy
in the spin-off manga
Saki Achiga-hen episode of side-A
and its
anime adaptation
. Students from all over Japan visit this school.
History
Senriyama is considered the strongest school in the Kansai region and the second ranked school in the nation. Senriyama makes its 11th straight national appearance at the 71st Inter High School Mahjong Championships and is the fourth overall seed. Overall, it is also the school's 35th appearance in the national championships. Many pros are alumni of the school.
Club
The club has at least four automatic tables and over 20 members. The team is coached by Masae Atago, mother of Hiroe and Kinue from the local rival Himematsu High School.
Roster for the 71st Inter High
Girls' team tournament
Several other club members joined them as substitutes, including third year Kotone Nakamuta and second year Saori Ashino.
Tournaments
70th Inter High
Main article: 70th Inter High School Mahjong Championships
Result
North Osaka qualification
Result
71st Inter High
Main article: 71st Inter High School Mahjong Championships
Result
Trivia
During the 71st Inter High, out of all the seeded schools to make it to the semifinals, Senriyama is the only one to not advance into the finals.

Thus, it will also be the only seeded school that Kiyosumi did not have to face.

Like Shiraitodai and Himematsu, Senriyama scouts players from all over the nation, but due to a coincidence during the 71st Inter High, nearly all regular players come from Osaka, with only Hiroko Funakubo as the only non-Osaka player, being born in Kobe.
Senriyama is the first school to be shown with a pure positive score on the National stage, in their debut in the quarterfinals, none of their players ended their match with a negative point total.
In addition, Senriyama previously had the highest average point gain per player during their performance in their quarterfinals, averaging 16,080 points gained per player.

This would later be broken by Rinkai's performance during the Side-B Semifinals