Shiraitodai High School (白糸台高校) is a girls private school located in the West Tokyo area and the primary rival of Kiyosumi High School in the Saki manga and its anime adaptation. It is also a secondary rival of Achiga Girls' Academy in the spin-off manga Saki Achiga-hen episode of side-A and its anime adaptation.
History
Teru Miyanaga led her team to become not only the prefectural representative, but also the national champion at the 69th Inter High School Mahjong Championships. Shiraitodai also defended its title at the 70th Inter High. If it is once again successful in its third year, Teru will become the first person to become a national champion all three years in high school.
Club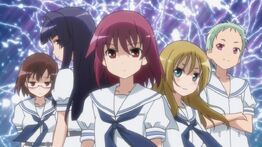 Shiraitodai's mahjong club gathers players from all over Japan. It has multiple teams which compete within their school. The group that wins get to represent the school in the nationals, this potentially means that Shiraitodai's top 5 players aren't representing Shiraitodai at the Nationals. Each group has its own theme. Teru and Sumire's team likes to focus on offense. Even the second-ranked team is considered to be prefectural representative level, while Teru's team is a national championship contender.
Reika Kaise
 is the director of the team.
Roster
Girls' team tournament
Up until the previous Spring tournament to the 71st Interhigh, Teru was tasked as her team's captain position. However, when she she showed that there was a great synergy between her ability and being the last dealer, she was placed in the vanguard position. This line-up generally means that Teru will either drop one of her opponents to 0, or make a very large lead for her teammates.
Tournaments
69th Inter High
Main article: 69th Inter High School Mahjong Championships
Result
70th Inter High
Main article: 70th Inter High School Mahjong Championships
Result
West Tokyo qualification
Result
71st Inter High
Main article: 71st Inter High School Mahjong Championships
Result
Trivia
Shiraitodai is the second school where the Vanguard wins a huge lead for the team, and then the following teammates have negative scores - the first being Kazekoshi.
Shiraitodai will be the only school in the final with only one first year player, all the other schools have at least 2.
Shiraitodai in the Side-A semifinals breaks the record for both the most points won and lost over two hanchan

Teru wins the most points with 96,200,
Seiko loses the most points with 59,400.
Previously, both of these belonged to Kazekoshi's players Mihoko Fukuji and Seika Bundou
Community content is available under
CC-BY-SA
unless otherwise noted.